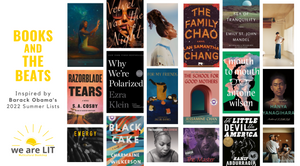 Books and the Beats!: Summer 2022
Summer is still here, and it just got more LIT! Barack Obama recently shared his summer reading and music lists across his social media platforms. These highly anticipated lists include book recommendations spanning genres from crime mystery in S. A. Cosby's Razorblade Tears, to a family saga currently in development for a Hulu series in Charmaine Wilkerson's Black Cake.
Obama's reading list will not disappoint fans of psychological thrillers and features novels such as Antoine Wilson's Mouth to Mouth and Jennifer Egan's The Candy House, which the San Francisco Chronicle described as "A beautiful exploration of loss memory and history."

What books would you add? Drop your favorite reads so far this year in the comments! We Are LIT recommends:
Music is magic in the vibrant and imaginative debut novel, The Ballad of Perilous Graves, set in a fantastical version of New Orleans where a battle for the city's soul brews between two young mages, a vengeful wraith, and one powerful song.
Set in Michigan, What the Fireflies Knew is a dazzling and moving novel about family, identity, and race. It poignantly reveals that heartbreaking but necessary component of growing up--the realization that loved ones can be flawed and that the perfect family we all dream of looks different up close.
Named a Best Book of Summer by Good Housekeeping, Chicago Magazine, The St. Louis Post Dispatch, Chicago Tribune, Veranda, The Milwaukee Journal Sentinel, Publishers Weekly, and more - Last Summer on State Street explores the risk of connection against the backdrop of racist institutions, the restorative power of knowing and claiming one's own past, and those defining relationships which form the heartbeat of our lives. Interweaving moments of reckoning and sustaining grace, debut author Toya Wolfe has crafted an era-defining story of finding a home -- both in one's history and in one's self.
To make sure you get through the dog days, the 44th President also shared 44 songs that he's been listening to this summer. Obama's music playlist includes tracks from Billboard's Hot 100 such as Beyonce's new single Break My Soul from the album Renaissance released on July 29 - to classics like Nina Simone's Do I Move You?
"Every year, I get excited to share my summer playlist because I learn about so many new artists from your replies—it's an example of how music really can bring us all together." -Barack Obama
What music are you listening to this summer? Drop your favorite tracks in the comments below! We Are LIT loves Robert Glasper's rendition of Everybody Wants to Rule the World featuring Lalah Hathaway and Common from his recent Black Radio III album.
 #BooksAndTheBeats
---
1 comment