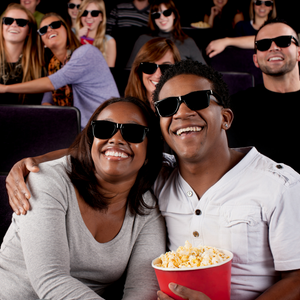 Book to Big Screen: 4 Books to Read Before the Movie Adaptation
From Disney's adaptation of Madeleine L'Engle's classic "A Wrinkle in Time" directed by Ava DuVernay and starring Oprah Winfrey to HBO's premier of Ray Bradbury's classic dystopian novel "Fahrenheit 451; 2018 has seen no shortage of bestselling books turned into movies. If these titles are still pending on your "To Be Read" list, hop to it because here are four more books to read before the movie adaptation hits theaters later this summer and fall:
1. The Darkest Minds by Alexandra Bracken - August 3rd
In The Darkest Minds when teens mysteriously develop powerful new abilities, they are declared a threat by the government and detained. Sixteen-year-old Ruby, one of the most powerful young people anyone has encountered, escapes her camp and joins a group of runaway teens seeking safe haven. Soon this newfound family realizes that, in a world in which the adults in power have betrayed them, running is not enough and they must wage a resistance, using their collective power to take back control of their future.
2. Black Klansman: A Memoir by Ron Stallworth - August 10th
From visionary filmmaker Spike Lee comes the incredible true story of an American hero. In Black Klansman, it's the early 1970s, and Ron Stallworth (John David Washington) is the first African-American detective to serve in the Colorado Springs Police Department. Determined to make a name for himself, Stallworth bravely sets out on a dangerous mission: infiltrate and expose the Ku Klux Klan. The young detective soon recruits a more seasoned colleague, Flip Zimmerman (Adam Driver), into the undercover investigation of a lifetime. Together, they team up to take down the extremist hate group as the organization aims to sanitize its violent rhetoric to appeal to the mainstream. Produced by the team behind the Academy-Award® winning Get Out.
3. Crazy Rich Asians by Kevin Kwan - August 17th
Crazy Rich Asians follows native New Yorker Rachel Chu (Constance Wu) as she accompanies her longtime boyfriend, Nick Young (Henry Golding), to his best friend's wedding in Singapore. Excited about visiting Asia for the first time but nervous about meeting Nick's family, Rachel is unprepared to learn that Nick has neglected to mention a few key details about his life. It turns out that he is not only the scion of one of the country's wealthiest families but also one of its most sought-after bachelors. Being on Nick's arm puts a target on Rachel's back, with jealous socialites and, worse, Nick's own disapproving mother (Michelle Yeoh) taking aim. And it soon becomes clear that while money can't buy love, it can definitely complicate things.
4. The Hate U Give by Angie Thomas - October 19th
Starr Carter is constantly switching between two worlds: the poor, mostly black, neighborhood where she lives and the rich, mostly white, prep school she attends. The uneasy balance between these worlds is shattered when Starr witnesses the fatal shooting of her childhood best friend Khalil at the hands of a police officer. Now, facing pressures from all sides of the community, Starr must find her voice and stand up for what's right. The Hate U Give is based on the critically acclaimed New York Times bestseller by Angie Thomas and stars Amandla Stenberg as Starr, with Regina Hall, Russell Hornsby, Issa Rae, KJ Apa, Algee Smith, Sabrina Carpenter, Common and Anthony Mackie.
 "Never judge a book by its movie"
~J.W. Eagan
SHARE this post on Facebook or Twitter using hashtags #BookToBigScreen and #wearelitgr to automatically be entered to win ALL 3 books in Kevin Kwan's "Crazy Rich Asians" trilogy.
---