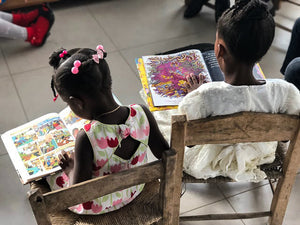 Haitian Library Donation Project: Children's Books for Haiti!
Children's Books for Haiti Donation Project is an initiative to collect 500 children's books by May 6, 2018 to donate to a recently constructed library in rural Haiti. This project is lead by Yvette Jenkins, owner of Love Travels. Imports., a Detroit-based shop featuring hand-crafted products from artisans around the world.
Photo: Yvette Jenkins of Detroit-based Love Travels. Imports.
 Photo: The Community Maker Library haitiprojects.org

The Community Maker Library is a new library in rural Haiti located in the center of Fond des Blancs. It was founded to provide educational and literacy opportunities to the local community. It was made possible through the Kellogg Foundation, the estate of Ellin Smalley, the Hershey Foundation, and Jean Paul Valette and is officially titled "
The Haiti Projects Community Library
in memory of Ellin Smalley.
We Are LIT is honored to collaborate with two Detroit-based independent bookstores on the initiative; and in support of the effort has curated a special collection of children's books, many in the Haitian Creole/French language to purchase for donation now thru May 6th. All books purchased from this collection will be shipped directly to the library in Haiti. Your support is needed and much appreciated!
To purchase a book to donate click here: Children's Books for Haiti
---