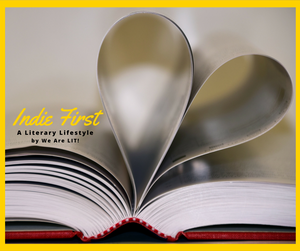 Join Our Online Community
A Literary Lifestyle
is an online community built around book culture and administered by We Are LIT on Facebook as a hybrid group suited for lifestyle readers who prefer and buy print books; as well as readers who are passionate about or open to supporting self-published authors by buying, reading, and reviewing their work.
We are
INDIE FIRST
! We Are LIT is reshaping the narrative and creating a culture that puts bookselling back in the hands of independent booksellers and authors. The group is not a book club, rather it is a platform designed to connect lifestyle readers to their interests and offer a space for authors to spotlight and sell their work. The goal is to provide an environment that fosters organic and thoughtful engagement around book culture. The ideal member will join this group to:
1.
Stay up to date
on the latest book news, events, and industry trends
2.
Shop for books
sold by We Are LIT and on behalf of member authors
3.
Participate in
author and book talks via Live Events
4.
Support self-published authors
by buying, reading, and reviewing their work
5.
Engage
with other literary enthusiasts by creating meaningful conversations around book culture.
Join the group:
A Literary Lifestyle by We Are LIT!
---