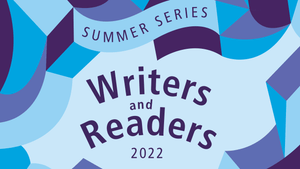 Grand Rapids Public Library to Offer Monthly Series for Writers and Readers
The Grand Rapids Public Library will offer a monthly series this summer that pairs regional and national authors and aspiring writers in a festival-like atmosphere. Each month 'Writers and Readers' will offer a writing workshop led by a regional author, a book talk by a national author, and an outdoor community gathering that will feature food trucks, games, community partners and more. The event is sponsored by the Grand Rapids Public Library Foundation and is free and open to the public.
The series will feature bestselling authors James McBride, Cleve Jones, and Silvia Moreno-Garcia, who will discuss their work and sign books.
Each month, the writing workshops will be held at the Main Library and the author talks will be held at Fountain Street Church. Food trucks and other activities will be held outside the Main Library. Thanks to the support of the Friends of the Library, the first 100 meals at each food truck are free. Free food is first come, first served and available for purchase after the first 100 meals have been distributed.
Get the complete schedule and details here!
---