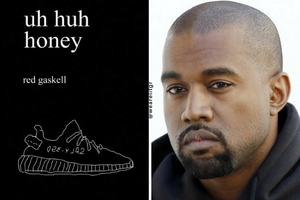 'Uh Huh Honey' a Book Parody of Kanye West's Most Inspirational Tweets
While interviewing his interior designer Axel Vervoordt, Kanye revealed that he plans to write a philosophy book titled Break the Simulation. Fresh off a long hiatus from Twitter, Kanye recently reactivated his account and has been tweeting up a storm with thoughts and reflections he says, "is the book in real time."
"If your friend jumps off the bridge you don't have to do the same. Ye being Ye is a fight for you to be you."
Originally reported by HIGHSNOBIETY, content creator and visual strategist Red Gaskell decided to help Kanye design the book. In Gaskell's April 21st blog post he said, "Kanye started tweeting again and he is writing a book in real time so I decided to help start designing it." By April 24th, Gaskell told his followers that the idea to help Kanye design his book received so much attention; he decided to try to make it a real book.
"Kanye has waxed poetic about life, creativity, and more on Twitter recently and what better way to immortalize his tweets than by turning them into a book paired with illustrations." Uh huh Honey is a compilation of Kanye's recent tweets written as a parody of Rupi Kaur's Milk and Honey.
"It was an easy parody of Milk and Honey given the short nature of tweets and my simple yet refined illustration style." -Red Gaskell 
'Uh Huh Honey' was published on Createspace Independent Publishing Platform and is available print on demand (ships within 1-2 business days) at We Are LIT. Order your copy here Uh Huh Honey by Red Gaskell.
---