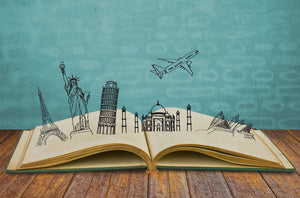 Passport to Summer Reading: Around the World in 11 Books
Summer is here! Rather you are traveling afar, planning an exciting stay-cation, or engaging in some serious armchair wanderlust; here are 11 books that will transport you around the world:
1. Sydney, Australia - Questions of Travel by Michelle de Kretser
Laura Fraser grows up in Sydney, motherless, with a cold, professional father and an artistic bent. Ravi Mendis lives on the other side of the globe--exploring the seductive new world of the Internet, his father dead, his mother struggling to get by. Their stories alternate throughout Michelle de Kretser's ravishing novel, culminating in unlikely fates for them both, destinies influenced by travel--voluntary in her case, enforced in his.
2. Colombia - Love in the Time of Cholera by Gabriel García Márquez
An old man and his childhood sweetheart are united for the first time resulting in the consummation of an amor interruptus that spans half a century. This uplifting love story is set on the Colombian coast in the early 20th century.
3. Northwest England - The Terrible by Yrsa Daley-Ward
The Terrible is a memoir of going under, losing yourself, and finding your voice. It's also about the surreal magic of adolescence, about growing up and discovering the power and fear of sexuality, about pitch-gray days of pills and powder and connection. It's about damage and pain, but also joy. Told with raw intensity and shocking honesty.
4. Paris, France - The Perfect Nanny by Leila Slimani
She has the keys to their apartment. She knows everything. She has embedded herself so deeply in their lives that it now seems impossible to remove her. The Perfect Nanny is a compulsive, riveting, bravely observed exploration of power, class, race, domesticity, motherhood, and madness.
5. Mumbai, India - The Secrets Between Us by Thrity Umrigar
A dazzling story of gender, strength, friendship, and second chances, The Secrets Between Us is a powerful and perceptive novel that brilliantly evokes the complexities of life in modern India and the harsh realities faced by women born without privilege as they struggle to survive.
6. Tehran, Iran - Song of a Captive Bird by Jasmin Darznik
Inspired by Forugh Farrokhzad's verse, letters, films, and interviews--and including original translations of her poems--this haunting novel uses the lens of fiction to capture the tenacity, spirit, and conflicting desires of a brave woman who represents the birth of feminism in Iran--and who continues to inspire generations of women around the world.

7. Tokyo, Japan - Rainbirds by Clarissa Goenawan
Set in an imagined town outside Tokyo, Clarissa Goenawan's dark, spellbinding literary debut follows a young man's path to self-discovery in the wake of his sister's murder.
8. Mexico - The Line Becomes a River by Francisco Cantú
A former Border Patrol agent's haunting experience of an unnatural divide and the lives caught on either side, struggling to cross or to defend it.

9. Lagos, Nigeria - Welcome to Lagos by Chibundu Onuzo

When the army officer Chike Ameobi is ordered to kill innocent civilians, he knows it is time to desert his post. As he travels toward Lagos with Yemi, his junior officer, and into the heart of a political scandal involving Nigeria's education minister, Chike becomes the leader of a new platoon, a band of runaways who share his desire for a different kind of life.
10. California, USA - There, There by Tommy Orange
Tommy Orange writes of the plight of the urban Native American, the Native American in the city, in a stunning novel that grapples with a complex and painful history, with an inheritance of beauty and profound spirituality, and with a plague of addiction, abuse, and suicide.
11. New York City, USA - A Lucky Man by James Brinkley
A Lucky Man: Stories reflect the tenderness and vulnerability of black men and boys whose hopes sometimes betray them, especially in a world shaped by race, gender, and class, where luck may be the greatest fiction of all.
"That's the thing about books. They let you travel without moving your feet."     ~Jhumpa Lahiri, The Namesake
---