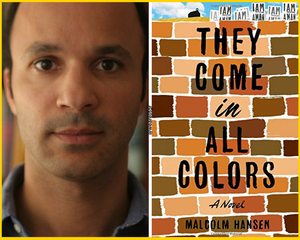 Alternate Between the Deep South of the 1960's and New York City in Malcolm Hansen's Debut Novel
Malcolm Hansen makes a bold and stunning arrival on the literary scene with his debut novel. Alternating between the Deep South and New York City during the 1960s and early '70s, They Come in All Colors follows a biracial teenage boy who finds his new life in the big city disrupted by childhood memories of the summer when racial tensions in his hometown reached a tipping point.
"A compelling and touching debut novel. Every scene pulls you in to Huey's journey from child to man against the backdrop of the Civil Rights Movement." ~ Barbara Hendricks, award-winning opera singer, author and humanitarian
"It's 1968 when fourteen-year-old Huey Fairchild begins high school at Claremont Prep, one of New York City's most prestigious boys' schools. His mother had uprooted her family from their small hometown of Akersburg, Georgia, a few years earlier, leaving behind Huey's white father and the racial unrest that ran deeper than the Chattahoochee River. But for sharp-tongued Huey, forgetting the past is easier said than done.
At Claremont, where the only other nonwhite person is the janitor, Huey quickly realizes that racism can lurk beneath even the nicest school uniform. After a momentary slip of his temper, Huey finds himself on academic probation and facing legal charges. With his promising school career in limbo, he begins examining his current predicament at Claremont through the lens of his childhood memories of growing up in Akersburg during the Civil Rights Movement—and the chilling moments leading up to his and his mother's flight north. With Huey's head-shaking antics fueling this coming-of-age narrative, the story triumphs as a tender and honest exploration of race, identity, family, and homeland."
"In They Come in All Colors, Malcolm Hanson is not writing about saints or monsters, just vivid human beings. And does so with humor and insight."  ~Victor LaValle, award-winning author of The Changeling

Order your copy today from We Are LIT!
---