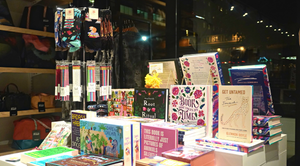 More Books in the City! We Are LIT's Newest Bookshop Location
We Are LIT recently celebrated four years in business and is excited to announce the launch of its third bookshop location in Grand Rapids! Beginning Tuesday, November 23, find We Are LIT inside The Arts Marketplace at Studio Park located at 123 Ionia Avenue SW.
The Arts Marketplace is powered by Pack Elephant and is focused on filling its space with diverse artists and retailers that will enhance the retail presence in Downtown Grand Rapids, while doing its part to serve and promote diversity in our city. The bookshop inside the Marketplace will focus on We Are LIT's Lifestyle Collection and feature books and novelties for book lovers!

We Are LIT's bookshop owner Kendra is also excited to add "Maker" to her resume and unveil BookmarkedArt.com a product line of novelties for book lovers featuring her own original photography.
The Arts Marketplace is open Tuesday - Saturday from 11:00 am - 7:00 pm and Sunday from 12:00 pm - 5:00 pm.
---