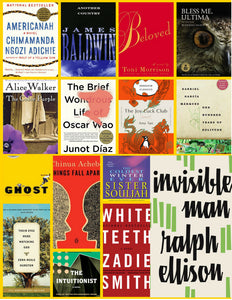 Great American Reads: 15 Literary Classics Written By Diverse Authors
15 Literary Classics written by diverse authors nominated for PBS's The Great American Read. From PBS:
THE GREAT AMERICAN READ is an eight-part series that explores and celebrates the power of reading, told through the prism of America's 100 best-loved novels chosen in a national survey.  It investigates how and why writers create their fictional worlds, how we as readers are affected by these stories, and what these 100 different books have to say about our diverse nation and our shared human experience.
Americanah Ifemelu and Obinze are young and in love when they depart military-ruled Nigeria for the West. Beautiful, self-assured Ifemelu heads for America, where despite her academic success, she is forced to grapple with what it means to be black for the first time. Quiet, thoughtful Obinze had hoped to join her, but with post-9/11 America closed to him, he instead plunges into a dangerous, undocumented life in London. Fifteen years later, they reunite in a newly democratic Nigeria, and reignite their passion--for each other and for their homeland.

Another Country Set in Greenwich Village, Harlem, and France, among other locales, Another Country is a novel of passions--sexual, racial, political, artistic--that is stunning for its emotional intensity and haunting sensuality, depicting men and women, blacks and whites, stripped of their masks of gender and race by love and hatred at the most elemental and sublime. In a small set of friends, Baldwin imbues the best and worst intentions of liberal America in the early 1970s.

Beloved Staring unflinchingly into the abyss of slavery, this spellbinding novel transforms history into a story as powerful as Exodus and as intimate as a lullaby. Sethe, its protagonist, was born a slave and escaped to Ohio, but eighteen years later she is still not free. She has too many memories of Sweet Home, the beautiful farm where so many hideous things happened. And Sethe's new home is haunted by the ghost of her baby, who died nameless and whose tombstone is engraved with a single word: Beloved.



Bless Me, Ultima Antonio Marez is six years old when Ultima comes to stay with his family in New Mexico. She is a curandera, one who cures with herbs and magic. Under her wise wing, Tony will probe the family ties that bind and rend him, and he will discover himself in the magical secrets of the pagan past-a mythic legacy as palpable as the Catholicism of Latin America. And at each life turn there is Ultima, who delivered Tony into the world...and will nurture the birth of his soul.



The Brief Wondrous Life of Oscar Wao Oscar is a sweet but disastrously overweight ghetto nerd who--from the New Jersey home he shares with his old world mother and rebellious sister--dreams of becoming the Dominican J.R.R. Tolkien and, most of all, finding love. But Oscar may never get what he wants. Blame the fukú--a curse that has haunted Oscar's family for generations, following them on their epic journey from Santo Domingo to the USA.

The Coldest Winter Ever Ghetto-born, Winter is the young, wealthy daughter of a prominent Brooklyn drug-dealing family. Quick-witted, sexy, and business-minded, she knows and loves the streets like the curves of her own body. But when a cold Winter wind blows her life in a direction she doesn't want to go, her street smarts and seductive skills are put to the test of a lifetime. Unwilling to lose, this ghetto girl will do anything to stay on top.

The Color Purple This is the story of two sisters--one a missionary in Africa and the other a child wife living in the South--who sustain their loyalty to and trust in each other across time, distance, and silence. Beautifully imagined and deeply compassionate, this classic novel of American literature is rich with passion, pain, inspiration, and an indomitable love of life.

The Intuitionist It is a time of calamity in a major metropolitan city's Department of Elevator Inspectors, and Lila Mae Watson, the first black female elevator inspector in the history of the department, is at the center of it. Lila Mae is an Intuitionist and, it just so happens, has the highest accuracy rate in the entire department. But when an elevator in a new city building goes into total free fall on Lila Mae's watch, chaos ensues. It's an election year in the Elevator Guild, and the good-old-boy Empiricists would love nothing more than to assign the blame to an Intuitionist. But Lila Mae is never wrong.

Invisible Man is a milestone in American literature, a book that has continued to engage readers since its appearance in 1952. A first novel by an unknown writer, it remained on the bestseller list for 16 weeks, won the National Book Award for fiction, and established Ralph Ellison as one of the key writers of the century. The nameless narrator of the novel describes growing up in a black community in the South, attending a Negro college from which he is expelled, moving to New York and becoming the chief spokesman of the Harlem branch of "the Brotherhood, " and retreating amid violence and confusion to the basement lair of the Invisible Man he imagines himself to be.

The Joy Luck Club In 1949 four Chinese women, recent immigrants to San Francisco, begin meeting to eat dim sum, play mahjong, and talk. United in shared unspeakable loss and hope, they call themselves the Joy Luck Club. With wit and sensitivity, Amy Tan's debut novel--now widely regarded as a modern classic--examines the sometimes painful, often tender, and always deep connection between these four women and their American-born daughters.

One Hundred Years of Solitude tells the story of the rise and fall, birth and death of the mythical town of Macondo through the history of the Buendia family. Inventive, amusing, magnetic, sad, and alive with unforgettable men and women--brimming with truth, compassion, and a lyrical magic that strikes the soul--this novel is a masterpiece in the art of fiction.

Their Eyes Were Watching God brings to life a Southern love story with the wit and pathos found only in the writing of Zora Neale Hurston. Out of print for almost thirty years due largely to initial audiences rejection of its strong black female protagonist Hurston s classic has since its 1978 reissue become perhaps the most widely read and highly acclaimed novel in the canon of African-American literature."

Things Fall Apart is a classic narrative about Africa's cataclysmic encounter with Europe as it establishes a colonial presence on the continent. Told through the fictional experiences of Okonkwo, a wealthy and fearless Igbo warrior of Umuofia in the late 1800s; it explores one man's futile resistance to the devaluing of his Igbo traditions by British political and religious forces and his despair as his community capitulates to the powerful new order.
White Teeth Set against London's racial and cultural tapestry, venturing across the former empire and into the past as it barrels toward the future and at the center of this invigorating novel are two unlikely friends, Archie Jones and Samad Iqbal. Veterans of World War II, Archie and Samad and their families become agents of England's irrevocable transformation. A second marriage to Clara Bowden, a beautiful, albeit tooth-challenged, Jamaican half his age, quite literally gives Archie a second lease on life, and produces Irie, a knowing child whose personality doesn't quite match her name. Samad's late-in-life arranged marriage produces twin sons whose separate paths confound Iqbal's every effort to direct them, and a renewed, if selective, submission to his Islamic faith.
More About The Great American Read
The television series features entertaining an informative documentary segments, with compelling testimonials from celebrities, authors, notable Americans and book lovers across the country. It is comprised of a two-hour launch episode in which the list of 100 books is revealed, five one-hour theme episodes that examine concepts common to groups of books on the list, and a finale, in which the results are announced of a nationwide vote to choose America's best-loved book.  The series is the centerpiece of an ambitious multi-platform digital, educational and community outreach campaign, designed to get the country reading and passionately talking about books.

Shop the collection: Great American Reads
---