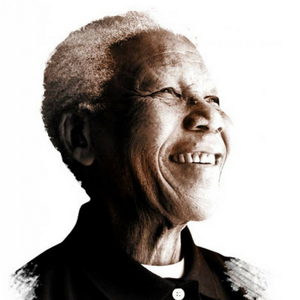 6 Audiobooks to Commemorate Nelson Mandela's Centenary
From The Mandela Foundation:
"Mandela Day calls on us all, every day, to make the world a better place. Each year on 18 July we look back on what has been done, and forward to what will be done. Making every day a Mandela Day celebrates Madiba's life and legacy in a sustainable way that will bring about enduring change."
July 18th marked 100 years since Nelson Mandela's birth and We Are LIT joined in the celebration of his centenary with Six Audiobooks to listen to that honor his life and legacy.
 1. Long Walk to Freedom: The Autobiography of Nelson Mandela
In classically elegant and engrossing prose, Nelson Mandela tells of his early years as an impoverished student and law clerk in Johannesburg, of his slow political awakening, and of his pivotal role in the rebirth of a stagnant ANC and the formation of its Youth League in the 1950s. He describes the struggle to reconcile his political activity with his devotion to his family, the anguished breakup of his first marriage, and the painful separations from his children. He brings vividly to life the escalating political warfare in the fifties between the ANC and the government, culminating in his dramatic escapades as an underground leader and the notorious Rivonia Trial of 1964, at which he was sentenced to life imprisonment.
With a foreword by President Barack Obama, Conversations with Myself draws on Mandela's personal archive of never-before-seen materials to offer unique access to the private world of an incomparable world leader. Journals kept on the run during the anti-apartheid struggle of the early 1960s; diaries and draft letters written in Robben Island and other South African prisons during his twenty-seven years of incarceration; notebooks from the post-apartheid transition; private recorded conversations; speeches and correspondence written during his presidency—a historic collection of documents archived at the Nelson Mandela Foundation is brought together into a sweeping narrative of great immediacy and stunning power.
The long-awaited second volume of Nelson Mandela's memoirs, left unfinished at his death and never before available, are here completed and expanded with notes and speeches written by Mandela during his historic presidency, making for a moving sequel to his worldwide bestseller Long Walk to Freedom.
4. The Prison Letters of Nelson Mandela
An unforgettable portrait of one of the most inspiring historical figures of the twentieth century, published on the centenary of his birth. Arrested in 1962 as South Africa's apartheid regime intensified its brutal campaign against political opponents, forty-four-year-old lawyer and African National Congress activist Nelson Mandela had no idea that he would spend the next twenty-seven years in jail. During his 10,052 days of incarceration, Mandela wrote hundreds of letters to unyielding prison authorities, fellow activists, government officials, and most memorably to his courageous wife, Winnie, and his five children. Now, 255 of these letters, a majority of which were previously unseen, provide the most intimate portrait of Mandela since Long Walk to Freedom.
The first-ever book to tell Nelson Mandela's life through the eyes of the grandson who was raised by him, chronicling Ndaba Mandela's life living with, and learning from, one of the greatest leaders and humanitarians the world has ever known. In Going to the Mountain, Ndaba tells how he came to live with Mandela shortly after he turned eleven--having met each other only once, years before, when Mandela was imprisoned at Victor Verster Prison--and how the two of them slowly, cautiously built a relationship that would affect both their lives in extraordinary ways.
Narrated by Forest Whitaker, this is the story of a young boy who grew up to become president of South Africa. His lifelong quest was to establish equality for people of all colors. Written by Kadir Nelson.
GET STARTED LISTENING WITH LIBRO.FM
Watch! Forever President Barack Obama Speaks At Mandela Day. In his first major speech since leaving public office, former President Barack Obama delivered the 2018 Nelson Mandela Annual Lecture in Johannesburg, South Africa.

"Madiba's light shone so brightly ... that in the late seventies he could inspire a young college student on the other side of the world to re-examine my own priorities – to reconsider the small role that I might play in bending the arc towards justice." ~Barack Obama
---