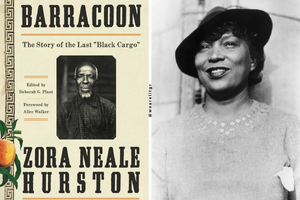 Between the Lines: The Story of the Last "Black Cargo"
From the Schomburg Center: "The highly-anticipated Barracoon: The Story of the Last "Black Cargo" edited by Deborah G. Plant is one of Zora Neale Hurston's most important works as an anthropologist and ethnographer. A never-before-published work of non-fiction, Hurston's Barracoon captures the life of Kossola, also known as Cudjo Lewis, one of the last known living survivors of the Atlantic Slave Trade.
Join us for this conversation as we delve into the significance of Hurston's record of Kossola's life within the larger context of slave narratives, and the impact of Hurston's training as anthropologist and ethnographer on her literary works of fiction and non-fiction.
Panelists included Deborah G. Plant, Zora Neale Hurston scholar and literary critic; Glory Edim, founder of Well-Read Black Girl and editor of forthcoming anthology of black women writers (Ballentine Books); and Dr. Sylviane Diouf, an award-winning historian of the African Diaspora, author of Dreams of Africa in Alabama: The Slave Ship "Clotilda" and the Story of the Last Africans Brought to America (Oxford University Press). Moderating the conversation is Dr. Cheryl Sterling, Associate Professor, Director of Black Studies Program at City College of New York."
Presented in partnership with the Lapidus Center for the Historical Analysis of Transatlantic Slavery @SchomburgCenter #Barracoon #ZoraNealeHurston
---