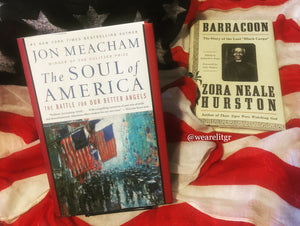 Seven Socially Conscious Books to Read This Summer
Across the country many are struggling with the current sociopolitical climate in the United States. From confederate statues to take a knee, here are seven books everyone can benefit from reading to better understand the present moment in America:
1. Eloquent Rage by Brittney Cooper
Eloquent rage keeps us all honest and accountable. It reminds women that they don't have to settle for less. When Cooper learned of her grandmother's eloquent rage about love, sex, and marriage in an epic and hilarious front-porch confrontation, her life was changed. This book argues that ultimately feminism, friendship, and faith in one's own superpowers are all we really need to turn things right side up again.
2. I'm Still Here by Austin Channing
In a time when nearly all institutions claim to value "diversity" in their mission statements, I'm Still Here is a powerful account of how and why our actions so often fall short of our words. Austin writes in breathtaking detail about her journey to self-worth and the pitfalls that kill our attempts at racial justice, in stories that bear witness to the complexity of America's social fabric--from Black Cleveland neighborhoods to private schools in the middle-class suburbs, from prison walls to the boardrooms at majority-white organizations. 
3. In the Shadow of Statues by Mitch Landrieu
The New Orleans mayor who removed the Confederate statues confronts the racism that shapes us and argues for white America to reckon with its past. A passionate, personal, urgent book from the man who sparked a national debate.
4. No Ashes in the Fire by Darnell Moore
When Darnell Moore was fourteen, three boys from his neighborhood tried to set him on fire. They cornered him while he was walking home from school, harassed him because they thought he was gay, and poured a jug of gasoline on him. He escaped, but just barely. It wasn't the last time he would face death. Three decades later, Moore is an award-winning writer, a leading Black Lives Matter activist, and an advocate for justice and liberation. In No Ashes in the Fire, he shares the journey taken by that scared, bullied teenager who not only survived, but found his calling.
5. The Heritage by Howard Bryant
The Heritage is the story of the rise, fall, and fervent return of the athlete-activist. Through deep research and interviews with some of sports' best-known stars--including Kaepernick, David Ortiz, Charles Barkley, and Chris Webber--as well as members of law enforcement and the military, Bryant details the collision of post-9/11 sports in America and the politically engaged post-Ferguson black athlete.
6. The Soul of America by Jon Meacham

In The Soul of America Meacham shows us how the "better angels of our nature" have repeatedly won the day. Painting surprising portraits of various presidents, and illuminating the courage of such influential citizen activists as Martin Luther King, Jr., early suffragettes Alice Paul and Carrie Chapman Catt, civil rights pioneers Rosa Parks and John Lewis, Meacham brings vividly to life turning points in American history.
7. What Truth Sounds Like by Michael Eric Dyson
A stunning follow up to New York Times bestseller Tears We Cannot Stop, What Truth Sounds Like examines the events surrounding the 1963 meeting between Robert F. Kennedy and James Baldwin in New York City, as well as its impact on race relations in the United States from then to now. What Truth Sounds Like exists at the tense intersection of the conflict between politics and prophecy - of whether we embrace political resolution or moral redemption to fix our fractured racial landscape. The future of race and democracy hang in the balance.
All titles available as an AUDIOBOOK from our partner Libro.fm
or
Browse We Are LIT's Culture, Race, and Politics Collection
---