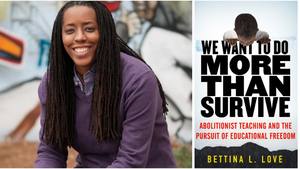 We Want to Do More Than Survive: Abolitionist Teaching and the Pursuit of Educational Freedom
In her book, We Want to Do More Than Survive, Professor Bettina L. Love draws on the history of the 19th century abolitionist movement to imagine radical new ways of teaching and organizing for social change, moving beyond what she calls the Educational Survival Complex, and towards Abolitionist Teaching.
On March 19, 2019 shortly after the release of the book, Dr. Love joined Yolanda Sealey-Ruiz, associate professor of English education at Teachers College, and Genevieve DeBose Akinnagbe, a former New York City Public School teacher in a conversation live from the Schomburg Center around her thoughts on how educators can teach children to thrive.
Dr. Bettina L. Love is an award-winning author and Associate Professor of Educational Theory & Practice at the University of Georgia. Dr. Love is one of the field's most esteemed educational researchers in the area of Hip Hop education. Her research focuses on the ways in which urban youth negotiate Hip Hop music and culture to form social, cultural, and political identities to create new and sustaining ways of thinking about urban education and intersectional social justice. Her work is also concerned with how teachers and schools working with parents and communities can build communal, civically engaged schools rooted in intersectional social justice for the goal of equitable classrooms.
---