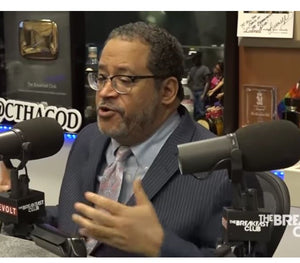 Michael Eric Dyson Breaks Down 'What Truth Sounds Like'
Michael Eric Dyson swung by The Breakfast Club recently to break down his new book What Truth Sounds Like and hip-hop's impact on the culture. Watch
In his new book, "What Truth Sounds Like: Robert F. Kennedy, James Baldwin, and Our Unfinished Conversation about Race in America," Dyson examines the events surrounding an infamous 1963 meeting between Robert F. Kennedy and James Baldwin in New York City and its impact on race relations in the United States from then to now.

"Michael Eric Dyson has finally written the book I always wanted to read. I had the privilege of attending the meeting he has insightfully written about, and it's as if he were a fly on the wall. Not only does he capture the spirit and substance of our gathering, but he brilliantly teases out the implications of that historic encounter for us today. What Truth Sounds Like is a tour de force of intellectual history and cultural analysis, a poetically written work that calls on all of us to get back in that room and to resolve the racial crises we confronted more than fifty years ago." -Harry Belafonte
From the publisher, In 1963 Attorney General Robert Kennedy sought out James Baldwin to explain the rage that threatened to engulf black America. Baldwin brought along some friends, including playwright Lorraine Hansberry, psychologist Kenneth Clark, and a valiant activist, Jerome Smith. It was Smith's relentless, unfiltered fury that set Kennedy on his heels, reducing him to sullen silence. Kennedy walked away from the nearly three-hour meeting angry that the black folk assembled didn't understand politics, and that they weren't as easy to talk to as Martin Luther King. But especially that they were more interested in witness than policy. But Kennedy's anger quickly gave way to empathy, especially for Smith. "I guess if I were in his shoes...I might feel differently about this country." Kennedy set about changing policy; the meeting having transformed his thinking in fundamental ways.
Learn more about the book and order your copy today from We Are LIT!
---