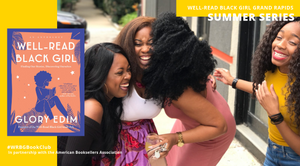 Well-Read Black Girl Grand Rapids Summer Series
We Are LIT! Grand Rapids is a multicultural bookshop selling new, diverse books curated to connect readers of all ages to their interest. Through its membership with the American Booksellers Association (ABA) and in partnership with Well-Read Black Girl (WRBG) founder, Glory Edim, We Are LIT is excited to collaborate with a couple of WRBG's to bring a book club summer series to Grand Rapids!
The goal of the partnership between Edim, the ABA, and its member bookstores is to "amplify diverse voices and support emerging writers of color." To support this goal and build upon its own mission, We Are LIT, through its WRBG Summer Series, seeks to unite Black Women who make up West Michigan's literary community to foster connections and create a culture around books.
WRBG Grand Rapids Meet Ups:
Wednesday, June 12th: WRBGgr kicked off its Summer Series with a meet and greet at New Hotel Mertens and its rooftop lounge Haute! The group engaged in conversation around books and individual reading interests over food, wine and music!
---