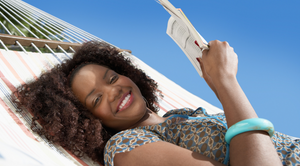 Passport to Summer Reading
As seen in Grander Magazine!
 
Summer is here! Rather summer plans have you traveling afar, enjoying a West Michigan beach, or engaging in some serious armchair wanderlust, let the Passport to Summer Reading be your guide to staying LIT all season!
"All God's Children Need Traveling Shoes," Maya Angelou's fifth autobiography book, where she chronicles her move to Accra in the 1960s to join a group of Black intellectuals who were described as "revolutionist returnees." It also provides a glimpse of the friendship between Maya Angelou and Malcolm X, whom she encountered in Ghana on his journey from Mecca.
All God's Children Need Traveling Shoes is Angelou's lyrical and acutely perceptive exploration of what it means to be an African American on the mother continent, where color no longer matters but where American-ness keeps asserting itself in ways both puzzling and heartbreaking.

TRAVEL TO KINGSTON, JAMAICA during the political unrest of the turbulent 1970s in "A Brief History of Seven Killings," Marlon James' fictional exploration of the attempted assassination of Bob Marley.
James brings to life the people who walked the streets of 1970s Kingston, who dominated the crack houses of 1980s New York, and who reemerged into a radically altered Jamaica of the 1990s.
Embark on a Creative Quest
INTELLECTUAL ARTISTRY! In "Creative Quest," musician, designer, producer, and culinary entrepreneur Questlove—draws on a lifetime of experience to offer insights into how to build the best creative life, and how to let the best creative life build you.
Questlove has worked with or around hundreds of other artists, and engaged in dialogue with them regarding the creative process, whether in person or from an appreciation of their work: musicians like D'Angelo and Björk, filmmakers like Ava DuVernay and Mike Birbiglia, comedians, chefs, designers, writers, and more. In Creative Quest, Questlove synthesizes all the creative lessons and stories he's collected from these collaborators, mentors, and colleagues, as well as reflecting on his own experience. The result is a guide to the role of creativity in everyday life: where it comes from, where it goes, where it leads you.
---
4 comments