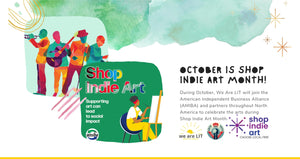 Celebrate Shop Indie Art Month
Grand Rapids, MI - During October, We Are LIT will join the American Independent Business Alliance (AMIBA) and partners throughout North America to celebrate locally owned artists, artisans, and creativity during Shop Indie Art Month! This campaign is part of a larger Shop Indie Local year-round campaign supported by AMIBA: shopindielocal.org.
Local artists spark creativity and innovation--and help to unify the community. 
"We want to inspire community members to celebrate locally owned artists, artisans, and creativity," shared Jen Risley, AMIBA's Shop Indie Local coordinator.  "Shop Indie Art to boost your local economy and quality of life."
We Are LIT is kicking off the Shop Indie Art Month festivities with a local artist talk at The Arts Marketplace at Studio Park! We Are LIT's bookshop owner Kendra will be in conversation with Octavia Mingerink, the Grand Rapids-based multidisciplinary artist behind Pretty in Ink Press about her work in the book publishing industry as an illustrator, her favorite book covers she's designed, and her passion for art and community. Learn more here: wearelitgr.com/blogs/bookculture/cover-envy-artist-talk-with-octavia-mingerink
This campaign also coincides with the Americans for the Arts National Arts and Humanities Month: https://www.americansforthearts.org/events/national-arts-and-humanities-month.
"The arts are the lifeblood of our communities, raising morale, creating community cohesion, and providing comfort during dark times while also delivering a huge economic footprint," said Nolen V. Bivens, president and CEO of Americans for the Arts. "And it is more important than ever that everyone take part to recognize the creative and cultural value of the arts and humanities in our communities."
Find more information, visit wearelitgr.com.  
About We Are LIT

We Are LIT is an independent, multicultural bookshop based in Grand Rapids, Michigan selling new, diverse books across all genres. Its inventory is hand selected to connect readers of all ages to their interests through thoughtfully curated books.
About AMIBA
The American Independent Business Alliance was founded in 2001 as part of a nationwide movement to support locally owned, independent businesses, encourage local purchasing, and address the competitive disadvantages that independent businesses often experience due to policies and economic structures: amiba.net. 
###
---