---
---
bbbCece loves science and adventure! In this STEM-themed picture book, the second in a series, Cece and her Adventure Girls troop use science, technology, engineering, and math to solve problems and earn their camping pins. Illustrated by New York Times–bestselling Vashti Harrison, the Cece Loves Science books are perfect for aspiring scientists, classroom learning, and fans of Andrea Beaty's Ada Twist, Scientist.
Cece loves being an Adventure Girl almost as much as she loves science, which is why she can't wait for her troop's camping trip. Nature is full of science for Cece to explore! Along with her friends, her mom, and her dog, Einstein, Cece learns how to pitch a tent, set up a campsite, and document landmarks on the trail. Then thunder booms in the distance! Working together, the girls use meteorology and math to determine the location of the storm; engineering to build a shelter; and technology and math to calculate the length of the trek back to the campsite. After all that teamwork, Cece's mom gives them an Adventure Girl surprise!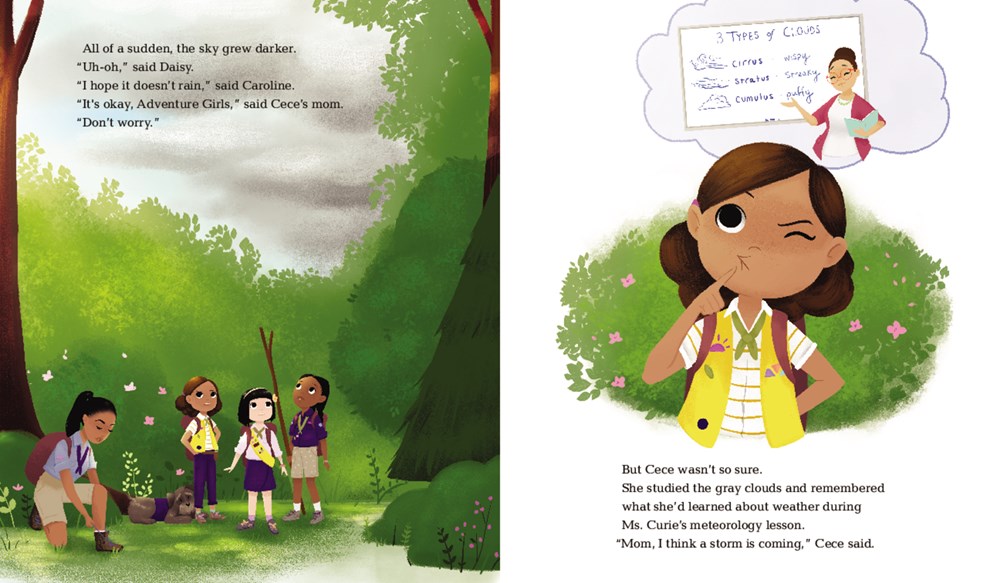 Illustrated by Vashti Harrison, author and illustrator of the
New York Times–
bestselling
Little Leaders: Bold Women in Black History
,
Cece Loves Science and Adventure
is just right for curious kids and anyone who loves to explore the great outdoors.
Kirkus
praised Cece's first adventure,
Cece Loves Science
, saying, "Harrison's clean, bright illustrations add expression and personality to the story . . . this endearing protagonist earns a place on the children's STEM shelf. A good introduction to observation, data, and trying again."
Includes a glossary. Ages 4-8

---