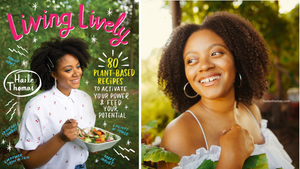 19 Year-Old Activist and Motivational Speaker Releases New, Unique Cookbook to Empower Others to Live Their Best Life
Haile Thomas is the youngest Certified Integrative Health Coach in America at age 19. In her first cookbook, Living Lively, Thomas shares 80 plant-based recipes to activate your power and feed your potential.

Living Lively is a unique cookbook and inspiring guide that combines 75 delicious, wholesome, super-powered plant-based recipes with a "7 points of power" manifesto to inspire the next generation of leaders to take care of their health and nurture their ability to make an impact and create a life they love.
"Haile believes that to productively work toward our best selves, we must first fuel the vessel that supports us—our bodies. By incorporating healthy, plant-based dishes into our daily routine, we can boost qualities such as confidence, happiness, energy, and positivity. In Living Lively, she combines her uplifting message with tasty, wholesome food, providing dozens of nutrition-packed vegan recipes—all gluten, dairy, and egg-free—that pack a punch with bold and bright flavors, many inspired by her culinary adventures around the world."
 
From starting the day with breakfast recipes for Good Mood Mornings to make it your own recipes in Craveable Combos essential meals for happiness in Soulful Staples and Pick Me Ups for no utensil required dishes and satisfying sweets to Treat Yo' Self and "Power Noms"—recipes that promote functional benefits such as boosting brain power, calming the body, and providing energy.
"When her father developed Type 2 diabetes, eight-year-old Haile began a journey that would change her family's dietary habits, improve her dad's health, and radically transform her life. Now a social entrepreneur, speaker, and wellness + compassion activist, she is an advocate for conscious living who promotes resilience, positivity, and a healthy, nourishing lifestyle to young people everywhere."
Healthy Plant-Based Cooking with Haile Thomas
Haile Thomas is an international speaker, wellness and compassion activist, vegan food and lifestyle content creator, the youngest Certified Integrative Nutrition Health Coach in the United States, and the founder/CEO of the nonprofit HAPPY (Healthy Active Positive Purposeful Youth. She is one of the first eight young chefs featured on season one of Food Network's Rachael vs. Guy: Kids Cook-Off and on Cupcake Wars Kids. She also served as the Jr. Chef Advisor for Hyatt Hotel's "For Kids—By Kids" Menu. She has been featured across the media, including the Today show, Dr. Oz, O, the Oprah Magazine, Buzzfeed, NowThis, MTV, BET, and Teen Vogue, was named a CNN Young Wonder, and has most recently worked on partnerships with Nike and Williams-Sonoma. She lives in the Hudson Valley in New York.

BOOK AVAILABLE AT WE ARE LIT! Living Lively: 80 Plant-Based Recipes to Activate Your Power and Feed Your Potential
Photos and content courtesy of William Morrow Cookbooks
---